Donations for Mac applications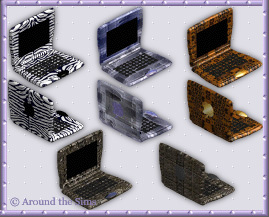 ** Mac Gifts Preview **
Hacked iBooks that allow your Sims to study all the skills.
The applications made for Mac are free, but if you want to donate to support Dom, you're welcome, and you'll receive a little gift as thank you: those hacked iBooks, matching to the CrazyMacs. You can donate how much you want, but please, think that under 2 euros, you only give to PayPal and not to Dom.

Once I receive your donation, I'll send you a mail with a link to your gift.
Note that this donation is special for the Mac applications, and for the iBooks gifts; it isn't a donation to the site (unless Dom wants to pay my bandwith! ;)), and it doesn't give you access to the site donator's privileges, only to these iBooks and to Dom's gratefulness. :)
Click on the PayPal button to make your donation.
PayPal fees

PayPal takes 0,29$ and a percentage on each donation, so the smaller the donations are, the bigger is the fees, and the less I receive...

When you donate $2, I receive $1,62
When you donate $5, I receive $ 4,51
When you donate $10, I receive $ 9,31.
Since the 21th of March 2002, non-US users won't have any more fees when they pay with PayPal.
Donations without PayPal

If you don't have a credit card or don't trust payments online, you can write me to ask me my postal address, and so you'll be able to send me money. I accept check in euros, or cash (euros and US dollars), but be prudent with this last way of payment, because your mail can be lost and then, there's no way to recover your money... =(
PS: I noticed that when it's euros that are inside the envelop, I always receive it, while it has happened several times that dollars have been "lost"... As I prefer euros myself, maybe it's better for you too to make the change and to send me euros...