Full Step-by-Step to install Skins
How to download, unzip and install skins in your game
What do I need?
To use the files offered on this site, you will need to have:
- a computer
- an internet connection
- an internet browser like Microsoft Explorer or Netscape Communicator (but you must have something like that to surf on my site! ;))
- an utility to unzip the downloaded files, like WinZip (if you find another tool that unzip your files, you can use it, but it's Winzip I'll use in this tutorial).
Things you should know first
The skins found on this site have a particularity: they're distributed without mesh. So it means you have to download the skin AND the mesh. In short, the skin is the texture, and the mesh is the 3D shape.



You also need to choose the version you want to download:
Some skins come in two versions: one "normal" and one "buyable". The first one doesn't require any expansion pack; the buyable one means that those skins can be bought by your Sims in shops, on Downtown or Vacation lots. Some buyable skins are made for Hot Date, some for Vacation. The table below will help you to know what expansion is needed for a particular skin:

Ab.
Name of the expansion
What skins are concerned
Sims
The Sims
casual wear
no-buyable
HD
Hot Date
adult buyable pajama
adult buyable formal
adult buyable swimming-wear
SV
Sims Vacations
adult buyable winter wear
children buyable winter wear
children buyable pajama
children buyable formal
children buyable swimming-wear
SS
SuperStars
adult buyable high-fashion
In our example, we'll take a skin of a formal dress, for woman, in its buyable format, so it will be a HD version, but the process is the same for all the skins.





The installation of the skins found of this is a bit different from other files because they're zipped on Mac, and not on PC (for skins found on other sites, the installation is like the one I described for objects or walls. Sorry to be different here, but it's the only way I can make my skins available for Windows users too).
This way of installation can also be adapted and used for other files (objects, walls and floors).
Creation of a shortcut for the Skins folder
For installing easily our skins, we're going to create a shortcut for the Skins folder on the desktop. Once it's done, you will use this shortcut for all the skins you want to install. Note that you can also create shortcut for your Downloads folder, Walls and Floors, but let's see first how creating the Skins folder shortcut:
-1-
We need to find our GameData folder, so click on the
Start button
, at the bottom of your Windows screen, and click on
"Find...files or folders"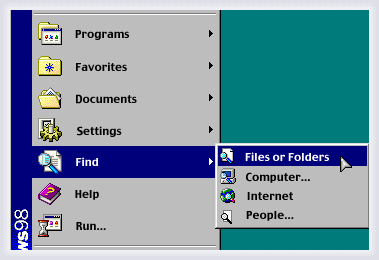 -2-

Type "GameData" in the "Name" field, and click on the "
Find now
" button.
The look of your find window might be a bit different as I use a french version of Windows...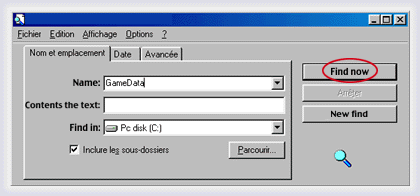 -3-

The results of the search appear at the bottom of the Find window. If you have found several "GameData", choose the one in
C:\Program Files\The Sims
.
Open your GameData folder by double-clicking on it.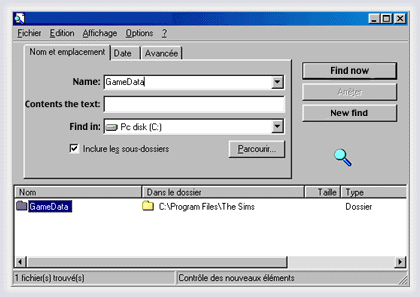 -4-

Then, select the Skins folder, and with the contextual menu,
create a shortcut: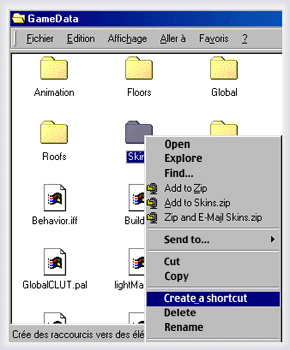 -5-

Drag your shortcut on your desktop. You'll have your Skins folder near the hand, now, each time you need it.

How do I download a skin?

-1-
First, you need to put your cursor on the name of the skin you want to download Here, we have chose the HD skin (see the previous chapter to know about Sims or HD versions). Then, click.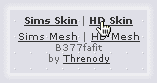 -2-
A window appears and asks you what you want to do with the file. Click on the "Save this file to disk" button, then click on OK.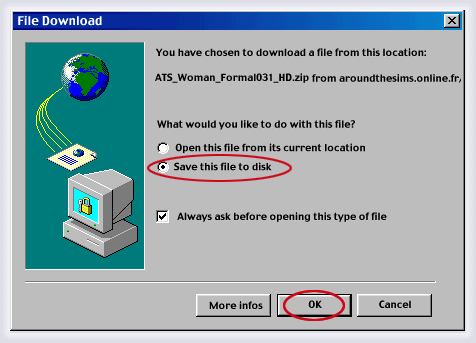 -3-
A new window asks you where you want to save the file. I don't know how you organize your disk, but I like having an Internet Downloads folder on my desktop, so I always save my files in this folder. In any case, click on where you want to save the download (it can be on the desktop, in another folder, it's up to you...), and then, click on the button "Save".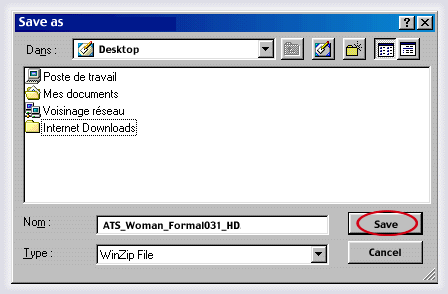 -4-
A window appears and give you an indication of the time the download will take. You don't need to do anything there.

-5-
Now, if you double-click on your Internet Download, located on your desktop, you'll see that we have the ATS_Woman_Formal031_HD.zip in our folder.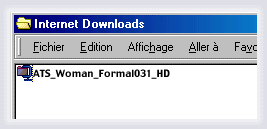 -6-
We're going now to download the mesh. The process is the same as for the skin. Once you have a particular mesh, you don't need to redownload it. For example, once we'll have the B377fafit mesh, we don't need to redownload it for all the dresses that use this same mesh, unless we need another version of this same mesh (we have downloaded the HD version, but we could need the Sims version someday).
Anyway, let's
click on the name of the mesh to download
; be sure to download the same version as the one you chosed for the skin (HD, SV, Sims...)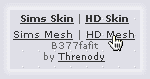 -7-
So the process is the same: save to disk, and see, the mesh is now in our Internet Download folder: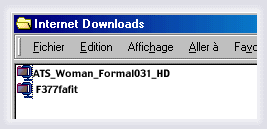 We're now ready to unzip and to install the skin and its mesh.
How do I unzip and install the skins I have downloaded?

-1-
Let's go in our Internet Downloads, and double-click on the item you want to unzip.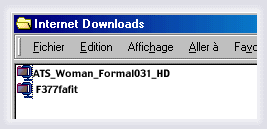 -2-
It will automatically open WinZip. Then, select all the items you want to unzip by clicking once on it (you can select more than one by clicking with the Shift key pressed). Skins are Bitmap files.
Don't bother about the "Icon" file: it's there because the files have been zipped on Mac, but it's useless for Windows; you'll even get a message saying that a password is needed, if you try to open it, so just ignore this file.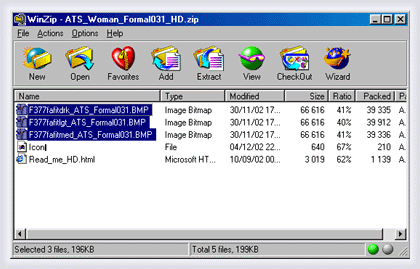 As long as you know where installing the skins, it's not useful to read the Read-me included with skins.

-3-
Open your Skins folder from the shortcut you have installed on your desktop, and drag the selected files of WinZip to the Skins window.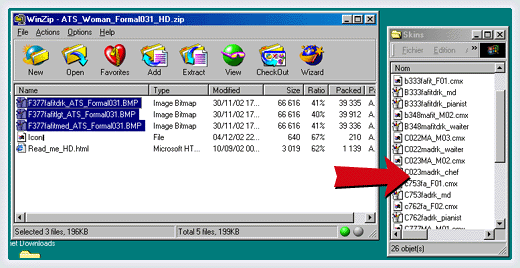 -4-
Now, do the same thing with the mesh: go to your Internet Download, and double-click on the mesh file. You absolultly need to extract the .CMX and the .SKN files, so select them both and drag them on the Skins folder.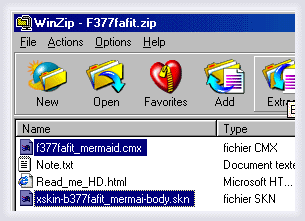 There's always a Read-me for the credit of the mesh; you should extract it to your desktop and read it. The author of the mesh has sometimes useful informations for you: can you redistribute this mesh, and how, how it has been made, where it has been found...


And here we go: you have installed your skins!


If your skins don't appear in your game, if you only see the hands of a NPC you have download, check your Skins folder:
Bad installation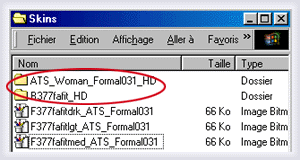 There's some folders in the Skins folder. Their content won't show up in the game.
Correct installation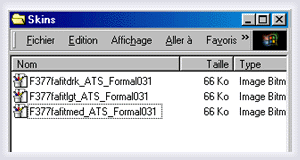 This folder contents only files. It's perfect! =)

This folder should content only files, not a single folder. If you see a folder somewhere, its content won't appear in your game, so you need to open the folder and take the files that are inside and move them in the Skins folder. You can now delete the empty folder.

Should I replace my old files by the latest ones, when I'm asked for?
Sometimes, you might have already a file with the same name, and Windows will ask you if you want to replace if with the one you have just unzipped.
Say "no": if your game works fine like that, don't change anything and keep your old files. No need to screw up the game. =)
If your new skins don't appear, it will still be time to reinstall the latest ones.
Where will I find the skins I have downloaded?
If you have downloaded "normal" versions of a skin, you'll find it when you create a new Sim or when you change the clothes of an existing Sim, using the wardrobe.
If you have downloaded the "buyable" version, then you'll need to send your Sims to Downtown or to Vacation, on a shop where they will be able to buy their new formal wear, lingerie, swimming-suit...
If you have downloaded the normal version of a skin but would like to use it to replace a default skin, then read the FAQ about skins.
What should I do with the .zip files, once I have unzipped them?
You can do what you want, actually. Most of the time, you won't have to use them anymore, so you can delete them, or make a back-up, whatever you want.