Frequently Asked Questions about the Sims, the Mac and a Windows emulator
Solutions for Virtual PC
A Windows emulator
Transmogrifier
Other applications
A Windows emulator
Virtual PC
A Windows emulator is a program that you run on Mac OS, but that emulates Windows, so it's a bit like if you had a PC at home... except that it's much, much slower...
Virtual PC, from Connectix, is the emulator I use.
Transmogrifier
How to install Transmogrifier
With a Windows emulator like Virtual PC, we can now use almost all the tools made for PC, and the first one is Transmogrifier.
Once you have installed Virtual PC (I'll call it "VPC" to make it shorter) and downloaded Transmogrifier (I'll call it "T-Mog"), follow these steps:
In Virtual PC, open your C:/ drive, then open the Programs files folder. Inside, create a folder called "The Sims". Open it, and create inside a folder "GameData". Open it, and create inside a folder called "Objects".


Drag the objects.far file on your Macintosh found in
The Sims/GameData/Objects to your newly created folder in VPC.


Create also a folder named "Downloads" in your "The Sims" folder, in VPC, and inside it, create another folder named "Transmogrified".


Install *the application* Transmogrifier into The Sims folder. If the application is in a folder, it won't find your objects. =/


You should have something like this (except that my Windows in in french):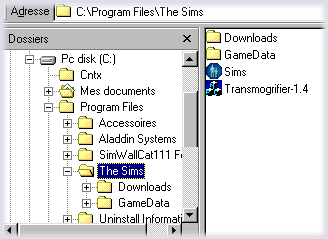 After this, you're ready to start cloning new objects so you can modify them. Visit the Transmogrifier Tutorial if you have questions about using the program. You can find plenty of tutorials to create your objects, here's the one I would recommand you:

How to create an object on my Mac, with T-Mog
You don't need a paint program within Virtual PC to be able to modify the exported sprites, and it's a very good thing to not have to re-buy Photoshop for Windows... LOL. And as Windows emulators are pretty slow, drawing with them would be hellish, I suppose. So we're going to use Virtual PConly to export and import our sprites (that's the names of the pictures) into T-Mog, but we're going to draw on Mac.

All you have to do is copy the exported sprites folder usually called "objectname_sprites" to your Mac, where you can use your favorite paint program. Then all you do is copy the sprites back into VPC, then import them from Transmogrifier. To copy a folder from VPC to Mac, you can or drag this folder to your Mac desktop if you have a large enough screen, or you can create a shared folder in Virtual PC, that will be used on both VPC and Mac.
Sometimes you'll find that VPC will refuse to copy over the sprites because the file names extend beyond 31 characters. It means you have to rename the files under Windows (I personally use NameWiz), and then, you will have to edit the XML file: decide how you want to rename the files, then rename all occurences of the sprite and replace it with the new name. You should do this with each sprite.

If you get this wrong, Transmog will not import the sprites, so you'll have to re-clone and export. So to spare those painful minutes in VPC, just make sure you do it right. It might be a good idea to make a back up copy of the XML file first :)

Other applications
How to run some Windows applications with an emulator: how to create a registry
So, now that you have installed Windows, you think that you'll be able to use all the applications made for the Sims? Life isn't that easy... (Remember: it's Windows that you have installed! ;)).

Many applications, like SimEnhancer, IFF Edit won't work correctly or won't work at all because they look for the Sims for Windows. Sometimes, putting an application renamed "Sims.exe" (Sims.exe not The Sims.exe) can help; it helps SimEnhancer, for example, but IFF Edit isn't still happy with it. And it's frustrating because except the applications, all the files are the same for Mac and PC! So, you should be able to edit your Sims with SimEnhancer or IFF Edit should be able to find the "Behavior.iff" file it looks for. But there's a solution!

Actually, these applications don't really look for the Sims, but for the registry file. What's this? A Windows file that indicate the path of an application.
Let's create one, and applications won't ask for the Sims anymore! :)))

Note
I have a french version of Windows 98, so the terms might not be always translated as in your version, and the snapshots will be different if you have Windows 2000 or else.

Open "My Computer", then your C:/ in a folder. Look for a folder called "Windows" and double-clik on it. A window opens and warns you that you're going to enter into Windows System! (ie Hell), and that any changes might destroy your system. LOL. Don't be afraid, and click on the link "Show the files" at the end of the warning.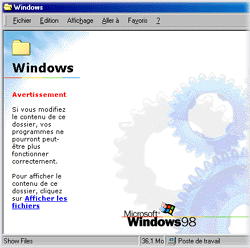 In this window, scroll down to find the application named "Regedit", and double-click on it:

You have a new window, similar to this one: Click on the "+" of the "HKEY_LOCAL_MACHINE" (what a poetic name, isn't it? ;)), and then on the "+" of the "Software" to open them. Then, select Software by clicking on it. It will be there that you'll create something that looks like a folder but it's called "Key".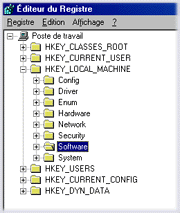 In the Edit menu, choose "New" then "Key" (it will create a new folder).
Call it "Maxis". Click once on your Maxis key, and create another one that you'll call "The Sims".

Then, go in Edit menu, choose "New" and "String". A new window appears: type SIMS_DATA in the first field, and in the second, type the path where your Sims folder is stored. Basically, it will be: C:\Programs Files\The Sims\
And voilà! Windows has now a registry for the Sims, and many applications for the Sims will run without asking you anything! Have fun! :)