Sims-NameRectifier
Application made by Dom for Mac OS 8-9 only

On Mac OS 8 or 9, sometimes, we have objects that don't end with the .iff suffix, because it has been cut due to the Mac's limitation to 31 characters, so we have "." or ".i", or anything at all, and these objects won't work in our game. It can be long and boring to rename a full folder of troncated names files... But NameRectifier is here!
Sometimes, you download several times the same objet, and you have in your Downloads folder "objects.iff, object.iff.1, object.iff.2". NameRectifier will help you to get rid of these double files.
*** Works only with .IFF objects files. ***
NameRectifier
NameRectifier
What does it do?
It adds the suffix ".iff" to the files names that don't have it; if two or more files in a same folder would have the same name after the modification, it removes the first character of the name. It moves to trash all the files that end by ".iff.1", ".iff.2", ".iff.3", etc...
How does it work?
-1-

Select the folder you want to scan.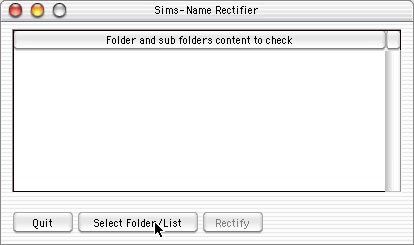 - 2 -
You can choose your Downloads folder (and it will look inside subfolders too), a folder outside your Sims folder, a folder inside your Downloads folder... Anything you want. I'm going to check my Simzilabim folder, because they always have loooooong file names.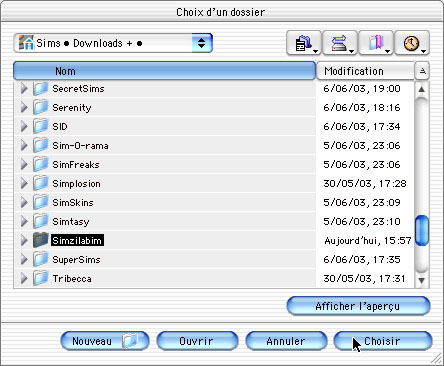 - 3 -
See: some files don't have a complete name: sometimes, they end by ".if", or ".i", or "."... (and sometimes, it's really worse!)
Let's click on "Rectify" button.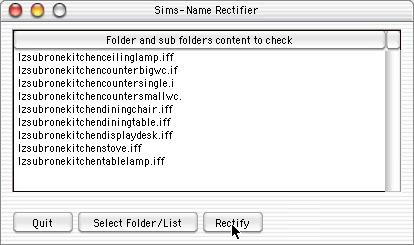 The application tells you what it did:

- 4 -
Let's see in the Finder how look our files names now: Yeah! They all finish by ".iff"!!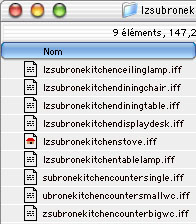 That's all. ;)
Download
For Mac OS 8-9 (536Ko)

Applications are free, but donations are welcome, if you want to support Dom. :)