The IFF Imager extracts the catalog BMP of your .iff files. It means you can have the small picture you see in the Buy mode catalog as an independant file, so you can have a quick preview of your files without opening an application. Your BMPs will have the same name of the .iff files, so they will be easy to identify.
You can also use these pictures for a database or whatever use you need.

Warning!: this application DOES NOT create BMPs, it only extracts the existing ones. If a file has no BMP, you'll get an empty file with the name begining by an underscore ("_").
There's many causes for an object not having a BMP. The most common reason is that you have Unleashed or further expansion. Since this, the game doesn't keep the BMP. The easiest thing you have to do is to install just the Sims, loading all your objects files, and then, they'll get their IDs.
Files that don't have BMP might have also an ID conflict: if two objects have the same ID, only one is loaded, and so only one gets a BMP. Fix the conflict, and reload your object file.
Somes files don't have a BMP because they're bugged, they have no OBJD, or so and most of the time, it's an object that won't work in your game.
Last, there's some files for whom it's perfectly normal to not have BMP, like all the NPC, controllers and such things.
Known issues: for some reasons, the IFF Imager won't manage to extract BMP from food files, even when the BMPs exist. It's a known bug.
-1-
For a better use, install the application in your Sims folder.
First, click on "IFF folder", and choose the location of the folder where are the .iff files. Warning, the application won't analyze the folders contained in the folder you'll point.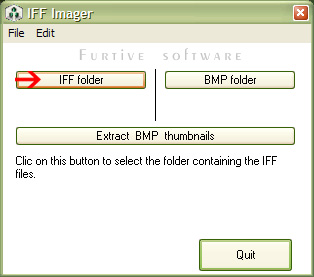 - 2 -
Choose now a folder where you want to find your BMPs after extraction. An empty folder is a good idea.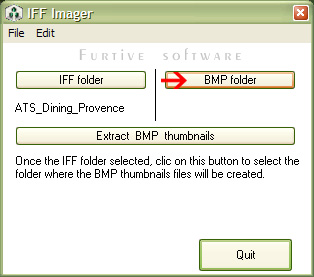 - 3 -
Click on the "Extract BMP" button to process to the extraction.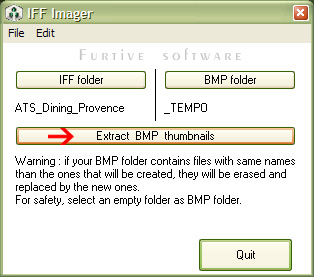 *** Don't panic! ***
Depending on the number of files you have to analyze, it might be long before the process is finished.
Once it's done, you'll see how many files have been treated.
You have now a folder with your thumbnails.